ENTERTAINMENT JOB IN SPAIN FOR GERMAN SPEAKING!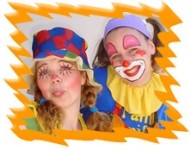 About on line entertainers recruiting agency AnimaSpagna
Are you looking for a summer job in a hot place?
maybe you find it!

AnimaSpagna is looking for german speaking entertainer/animation, also at the first experience, to go working in nice 3-4-5 stars international resorts in Spain! You will work for a spanish agency, leader in this sector. The working conditions are really good, check our page you will find out all the informations.

We are looking for:
- young dinamic people between 18-35 y.o.
- with or without experience in entertainment
- german s ...
Information how to contact us:
Web:
Mail:
Phone:
0039-0881-232088
Fax:
0039-0881-232088
Mobile:
0039-338-7441862
Postal address:
on line entertainers recruiting agency AnimaSpagnaz. hp Ms. responsable recruitment Lucia Monteon line agency
71100 foggia
Italy
Product- / search words:
animateur Spanien summer job arbaiten in spanien entertainment entertainment in
Entry change:
Click here do modify the entry